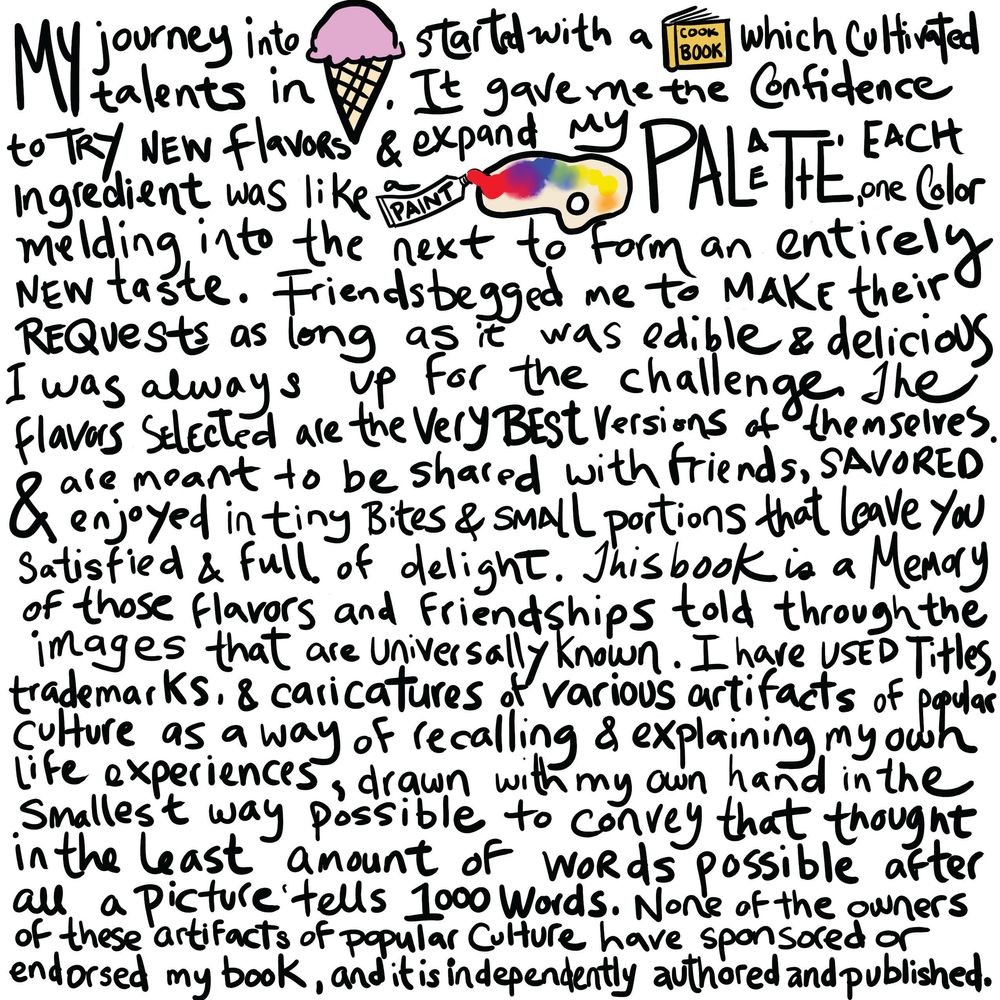 #valeriescateyescream
take an adventure in ice Cream!
Do you like ICE CREAM! This book will have you screaming for more... which is why I am always creating new recipes and telling the stories of the friends who lead me on that adventure!

Over 20 years ago I bought a book that would change my life. It was filled with ice cream recipes and the history of how it came to be with recipes around the world. I loved it and began sharing all the ice cream i'd make with the friends that would come to the potlucks. As I grew more comfortable making it, they'd say "have you ever thought about making (insert - some random and unusual flavor)." In order to encourage people to come to the potlucks I'd say who ever RSVP's with a dish first to the potluck I'll make your flavor request as long as it's in season and edible!

One thing lead to another... one friend made me an Ice Cream Shoppe Sign. another set of friends created an Ice Cream FB page for me based on that sign. Someone else asked me what my company name was and challenged me to find a more interesting name....
I love telling stories, love doing everything from scratch, by hand and just plain creating it was inevitable that I finally took a friend up on the suggestion of writing it all down to share.
By the time I started to write the first edition of the book I had already made over 130 flavors, the book represents a fraction of those flavors and the friends that inspired each delicious note.  
The book- "The Story & Recipes of Valerie's Cat Eye sCream!" is an 8 1/2" square, spiral bound, full color, 104 pages. 100% handwritten and illustrated by me. The stories are like puzzles that you need to take your time to experience and savor. They can be read randomly or from cover to cover to tell the story of how my ice cream came to be. 
The recipes are comprised of hand drawn icons that Illustrate each step in the process. I have had cooks of all ages and skill level say, "I actually understand this better than a traditional cookbook."

I love doing everything from scratch. I mean everything... Not only will I teach you how to make a custard for the ice cream but you will also learn how to make graham crackers, marshmallows, cannoli shells, pie crust, potato chips, spouted nuts… just to name a few. Not all the recipes are complicated but, they all share one quality, they are delicious and worth the time it takes to make. 
Don't just make one ice cream... make a few and serve them together to a group of friends. Savor them and take your time serve them in tiny bites and enjoy the flavor.  
Here is the deal… I don't sell ice cream… If you want my ice cream you are going to have to buy a book and make it yourself. If you don't cook, find a friend who does and give them a book as a gift… then say, "Hey, let's hang out and make some ice cream together!" 
This book is a first edition... cool, except it does contain a few errors and mistakes that only got caught after the books were picked up from the printer. Please visit the "oops and corrections" page before starting a recipe. If you discover something that needs clarification please send me a message :) thanks Valerie
Events
Keeping fingers crossed life returns to normal. All plans are subject to change but having said that! Save the date and I hope to see you there!
Latest News
During this crazy time while we are all stuck at home it's the perfect time to learn something new, read a story appreciate art and cook! I hope this time is inspiring for you and filled with wonderful things you didn't know you could do or at least something to take your mind off of the problems of the world. My project for the moment is to work on a new version of the book. I've been making lots of ice cream, talking with friends to keep sane while figuring out what their story might be and illustrating it all.  I had hoped to have a new version of the book available by the end of the year and that might happen but I still have a few more to sell to make space. If you'd like to help please buy a book. if you have a book,  buy one for a friend we all could use a little surprise in these times... So until then I'll keep writing and creating.